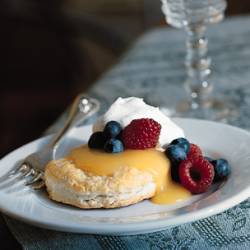 Lemon curd. Bob wants to know why I bought lemon curd. I don't know why I bought lemon curd but it was calling to me from the shelves, reminding me of Debbie at the gym regaling lemon curd--how useful it is, how you can add it to just about anything and it'll transform the dish into something sensational, almost orgasmic.
So in a weak moment at Trader Joe's, I stood in the lemon curd aisle and contemplated all the ways I could use lemon curd.
I suppose if I were English and fancied teas, I'd have lemon curd as a daily staple with my scones.
Having some Canadian blood it me, it might make some sense I'd at least stop and take a quick look.
I could make yummy
lemon bars
  or even lemon meringue pie.  I found
81 recipes
, more cards than in my whole recipe box, just using lemon curd.